Conference Mnemonic
This is the Conference Mnemonic. It is being requested to all the Partner organisation of the Platform and the media officials to use this logos for communication purposes.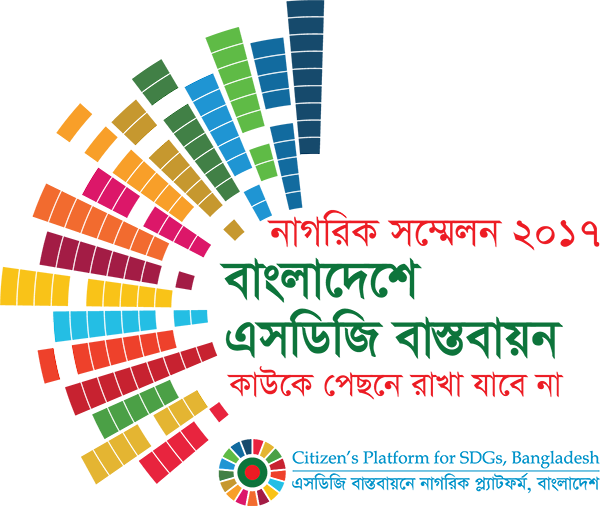 Download the logo from here [jpg] [png] or request the Platform to provide in other formats.
Sample Announcement for Facebook for Partner Organisations
English
The "Citizen's Conference on SDGs in Bangladesh 2017" is going to be held in Dhaka on 6 December 2017 with the slogan No One will be Left Behind. The daylong Conference will be organised by the Citizen's Platform for SDGs, Bangladesh. All the relevant information on the Conference are available at www.citizensconf.bdplatform4sdgs.net.
The core objectives of this conference are to raise country-wide awareness on issues related to Sustainable Development Goals (SDGs) with particular emphasis on the pledge of the Agenda 2030 that the marginalised people of the country should not be left behind from the development process. The Conference will also focus on strengthening coordination among the organisations working on SDGs implementation and making their efforts more visible.
The [name of your Organisation] is the Partner of the Platform. The [name of your organisation] will be organising/displaying/participating [tell your roles at the Conference].
Bangla
কাউকে পেছনে রাখা যাবে না – এই প্রতিপাদ্য সামনে রেখে আগামী ৬ই ডিসেম্বর ২০১৭ ঢাকায় অনুষ্ঠিত হতে যাচ্ছে "নাগরিক সম্মেলন ২০১৭: বাংলাদেশে এসডিজি বাস্তবায়ন"। এসডিজি বাস্তবায়নে নাগরিক প্ল্যাটফর্ম, বাংলাদেশ দিনব্যাপী এই সম্মেলনের আয়োজন করছে। www.citizensconf.bdplatform4sdgs.net – এই ওয়েবসাইটে সম্মেলনের যাবতীয় তথ্য পাওয়া যাবে।
সম্মেলনের মূল উদ্দেশ্য হচ্ছে এসডিজি অভীষ্টগুলোর তাৎপর্য সম্পর্কে দেশব্যাপী সচেতনতা সৃষ্টি এবং প্রান্তিক জনগোষ্ঠী কোনোভাবেই যেন এসডিজি বাস্তবায়ন প্রক্রিয়ার সুফল থেকে বঞ্চিত না হয় এ ব্যাপারে সবাইকে উদ্বুদ্ধ করা। সেই সাথে, এসডিজি বাস্তবায়নে বেসরকারি প্রতিষ্ঠানসমূহের ভূমিকাকে কার্যকর ও দৃশ্যমান করা।
নাগরিক প্ল্যাটফর্মের সহযোগী প্রতিষ্ঠান হিসেবে সম্মেলনে [আপনার প্রতিষ্ঠানের নাম] অংশগ্রহণ করবে। -এর পক্ষ থেকে [সম্মেলনে আপনার প্রতিষ্ঠানের ভূমিকা] – এসব আয়োজন থাকবে।
For other related contents for Facebook, kindly follow and share from the Platform profile:
https://www.facebook.com/BDPlatform4SDGs/
Sample Announcement for Twitter for Partner Organisations
As there is 140 character restriction on twitter, it is being requested to the Partner organisations to follow and Retweet from the Platform handle: @BDPlatform4SDGs
For own organisational tweet for the Conference, kindly, use the following hashtags-
Brand hashtag for the Conference
#SDGsBD
#SDGConf, #SDGaction, #ACT4SDGs, #SDGDialogues, #SDGsInAction,
#LeaveNoOneBehind #LNOB, #WeThePeople
#SDG1, #SDG2, #SDG3, #SDG4, #SDG5, #SDG6, #SDG7, #SDG8, #SDG9, #SDG10,     #SDG11, #SDG12, #SDG13, #SDG14, #SDG15, #SDG16